October 18, 2023
How to Have a 'Boo-tiful' Halloween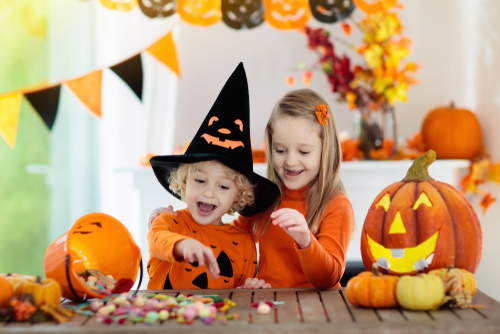 It's time to embrace your inner ghoul and goblin and revel in the spirit of the season. We're doing it by hosting a Howdy Halloween event, 3 to 6 p.m. Saturday, Oct. 21, featuring treats at each model home such as candy, pumpkin patches, a balloon twister, a photo op and more. A food truck and DJ will also be on hand.
If you want to have a "boo-tiful" Halloween filled with fun and festivity at home, here are some tips.
Plan Costumes Early
Whether you opt for classic characters, "punny" outfits or DIY creations, costumes are the key to Halloween fun. Ask your kids what they want to be for Halloween and plan accordingly. If a costume can be store-bought, you have more time than if you need to make it from scratch.
Decorate 'Spook-tacularly'
Decide on a theme for your home decorations then go shopping. Hit Halloween stores for skeletons, cobwebs, eerie lighting and more. Get the kids involved with some DIY decorations. Visit your local pumpkin patch to create "gourd-geous" porch décor
Carve Pumpkins
Gather around a table with friends and family to carve or paint pumpkins. You can also enjoy pumpkin-related activities like visiting a pumpkin patch, making pumpkin pie or roasting pumpkin seeds.
Host a Scary Movie Marathon
Have a movie marathon with your favorite Halloween classics like "Hocus Pocus," "The Nightmare Before Christmas" and "Beetlejuice." These films set the mood for the season and are great for a cozy night in.
Create Halloween-Themed Treats
Bake up sweet and savory Halloween treats. Invite friends over to decorate themed sugar cookies or whip up some mummy hot dogs. Even sprinkling candy corn on top of brownies adds a festive touch.
Support a Good Cause
Some organizations and communities host Halloween events for charity. Consider participating in a charity run, walk or event to support a good cause while having a scary good time.
---