September 08, 2023
Level Up Your Laundry Room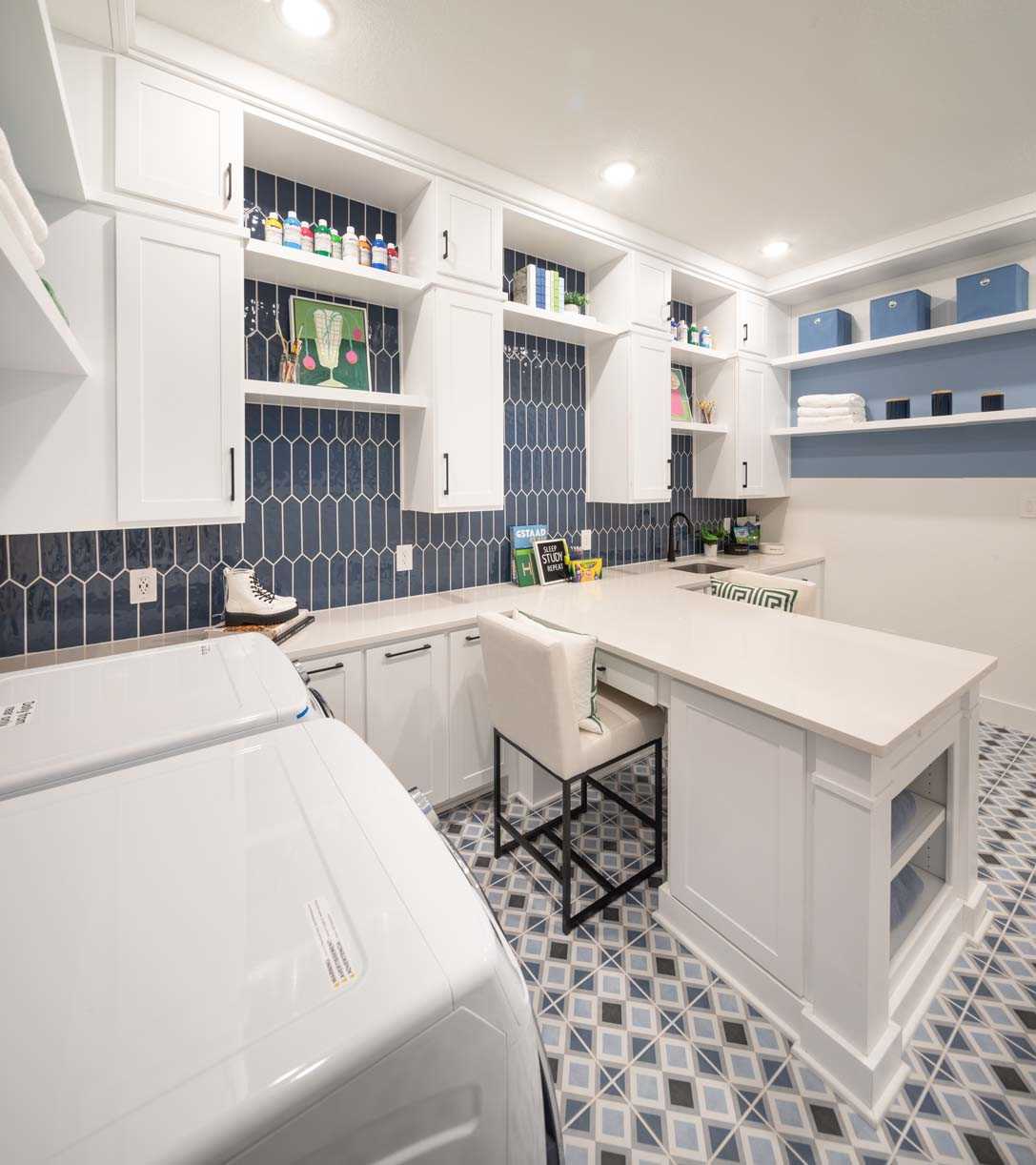 Think laundry rooms are just utilitarian? Then you haven't toured the Highland Homes' model in Cross Creek West. Cabinets, organizers, colorful tile and even a workstation have been added to create a functional yet glamorous space you'll actually want to spend time in. Inspired? Here are upgrades you can add to level up your own laundry room.
Start With Storage
Laundry rooms tend to be a catch-all. Fight the clutter with built-in cabinets and shelves. See if your builder can add a built-in laundry hamper to keep clothes off the floor. You can also add hooks for hanging brooms, mops and ironing boards.
You've Got to Have a Sink
A utility sink is a practical addition to any laundry room. It's perfect for pre-treating stains, hand-washing delicate items and various other tasks. A farmhouse sink is trendy and deep enough to soak all your delicates.
Folding Stations
Create a dedicated folding station on top of your lower cabinets. That way you aren't tempted to leave your clean clothes in the basket. Choose durable materials like quartz or laminate that are resistant to moisture and stains.
What About the Ironing Board?
Dragging out and setting up an ironing board is a pain. Why not install a built-in one? Simply pull it out from the wall, grab your iron and other supplies from a nearby cabinet and get to work.
Yes, You Can Multitask
One thing we love about the laundry room in the Highland Homes' model is the presence of a built-in table. Use it as a hobby area, homework station or data center while waiting for your clothes to finish drying.
Keep it Bright
Good lighting is essential in a laundry room. Consider installing bright, energy-efficient LED fixtures or even a stylish pendant light to make the space more inviting and functional.
Make It Soundproof
Consider adding some soundproofing materials to reduce the noise from your washer and dryer, making the room more pleasant to be in.
Make It Pretty
Who says laundry rooms have to look institutional? Paint the walls in a color that inspires you. Add some artwork. A tile backsplash behind your laundry machines or countertop can instantly elevate the room's aesthetics.
Visit Cross Creek West for More Inspiration
Love these ideas? Visit all our professionally decorated model homes today. You'll discover all sorts of inspiration — and maybe even your forever home.
---