March 24, 2023
Upgrade to Your Dream Kitchen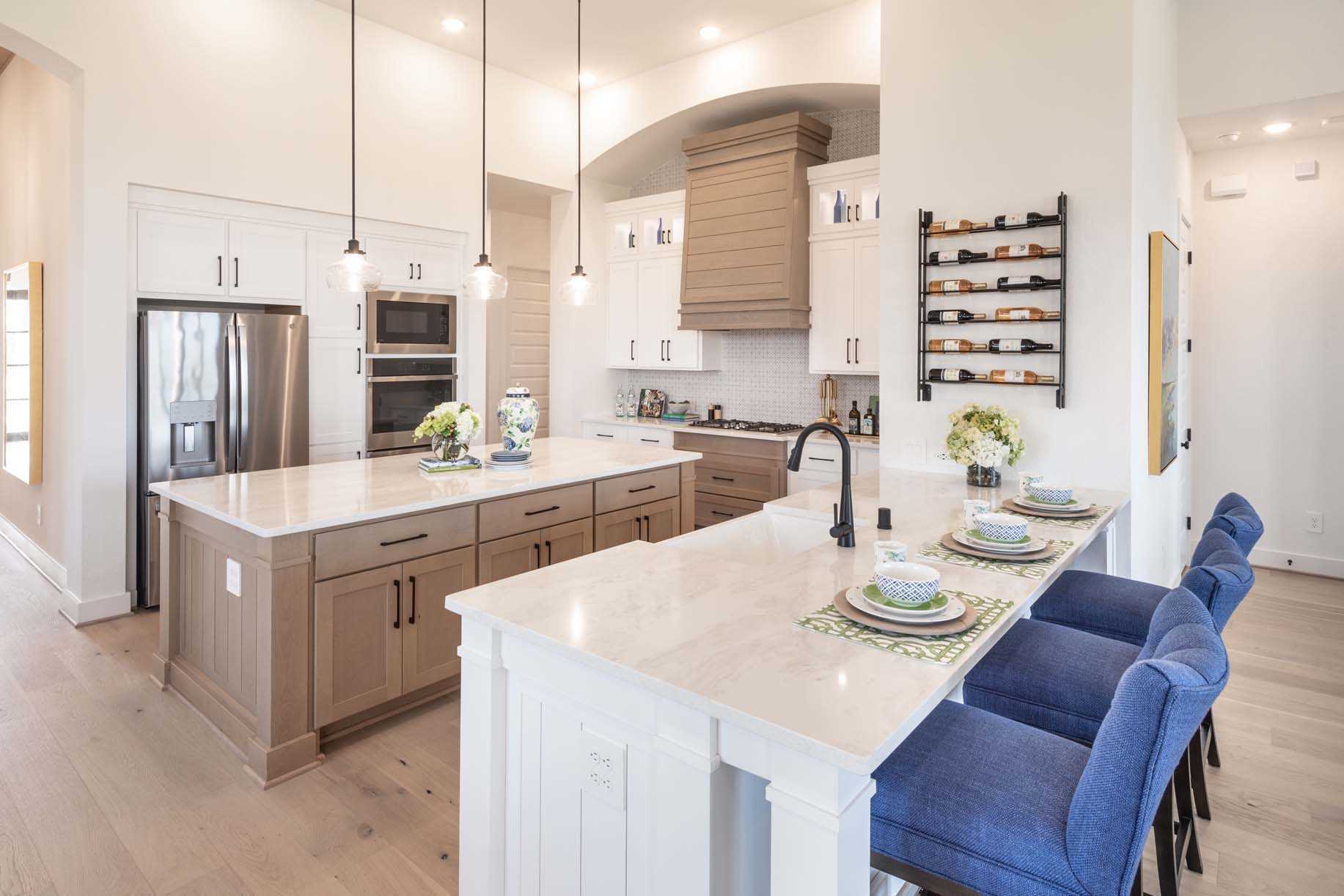 The kitchen is where we cook, eat, entertain and even work. No wonder the heart of the home is the most upgraded room in the house. What upgrades you choose depends on your needs and budget. Your Cross Creek West builder can help you. Our checklist will give you a place to start.
What Lies Beneath
Kitchens are high-traffic areas and kitchen floors undergo a lot of wear and tear. When choosing flooring, you will want something low-maintenance and easy to clean. If these aren't standard, consider an upgrade to hardwood, ceramic tile or stone floors. In addition to being beautiful, they are durable and increase the value of your home.
Choose Durable Countertops
Choose your countertops carefully. You want something durable that will never go out of style. Stay away from tile as it chips easily. Granite is durable and comes in a range of beautiful colors and patterns. Quartz is nearly indestructible, resists staining and — unlike granite — never needs to be resealed.
Invest in Cabinets Now
Ripping out old cabinets is expensive. It's easier to upgrade now and let your builder do the work. Choose cabinetry that is stain resistant. If you need additional storage, consider taller cabinets. Splurge on glass-fronted cabinets if you plan to display family heirlooms.
Your Perfect Island
These days, most homes boast a kitchen island. If your home doesn't have one, it's a good idea to spend your upgrade dollars there. If you do have one, consider upgrading. Today's islands can be configured to house your cooktop, dishwasher, wine refrigerator and more. An option might be to include handy cookbook storage at one end of the island. If you plan to entertain, choose an oversized island to ensure enough room for prepping food and talking to guests.
Organization is a Good Investment
When it comes to kitchens, having a place for everything and everything in its place is a survival tactic. Ask your builder's design experts about installing organizational systems in drawers, cabinets and pantries. A pots-and-pans drawer and built-in spice rack make finding exactly what you need a snap. A vertical cabinet at the end of the island can hold everything from pasta jars to soda cans.
Appliances for Every Season
Now is the time to add a double oven, wine refrigerator or steam oven. If you need to do it later, it will be more expensive and a lot of hassle. If you want your kitchen to have a sleek, uncluttered look, invest in cabinets designed for built-in appliances.
Anything Electrical
As long as an electrician will be working on your new home, you might as well add extra lights, USB plugs and more. This is also a good time to add undercabinet lighting which makes it easier to prepare your midnight snack.
Built-in Desks and Data Stations
If you don't need a study but do need an occasional work area, see if you can add a data center or planning desk. Bonus points if you are able to add a charging station for all those gizmos and gadgets.
---