March 28, 2023
Fulshear Photographers Publish Wildlife Book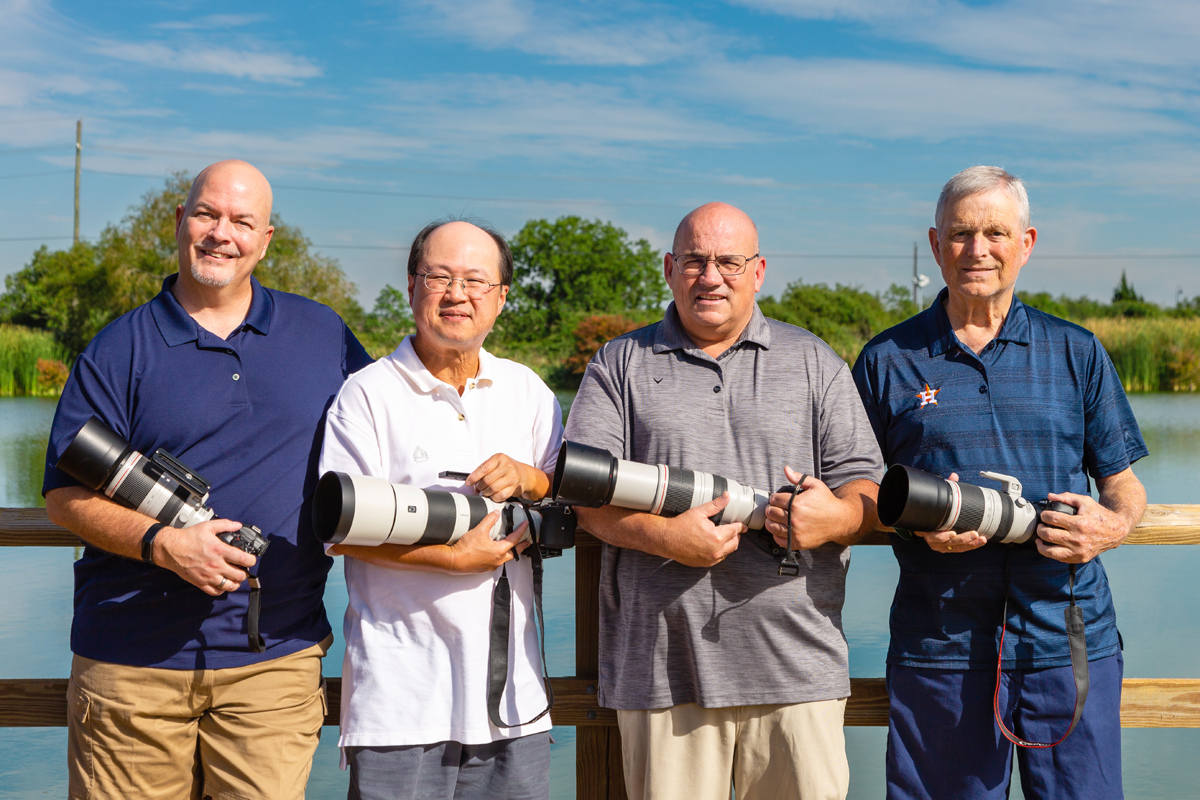 When Covid shut down Texas, Paul Broussard, Keith Turpin, Raymond Choo and David Hollier started shooting wildlife — with their camera that is. The results were recently compiled into "Fulshear and Beyond - Wildlife of Southeast Texas"— a book they will be selling at the Cross Creek West Art Market & Home Tour.
The four photographers are residents of our sister community, Cross Creek Ranch. All have a passion for photographing wildlife.
"My background in photography is what I might call an advanced amateur status," said Paul Broussard. "Since I retired at beginning of 2019, this is how I spend most of my time. I have an RV that I use to go to state parks to take wildlife pictures during migration times. I am in my truck at least once a week looking to take some nature shots around the area."
It was the required isolation of Covid that had them looking more closely at the wildlife in their own backyard.
'The pandemic is what brought me back around to spending more time in the outdoors," said Keith Turpin. "I was looking for something interesting to do and that is when I picked up my cameras and dusted them off after they had sat unused for a few years."
They posted their pictures on social media. It wasn't long before friends and neighbors suggested they publish a book. Each photographer contributed their best work.
"A few of my favorite photos are the soaring Short-Eared Owl, the resting bobcat, the brightly colored Painted Bunting, the approaching alligator, or the dancing squirrel," Turpin said. "We actually have a page at the end of the book where we listed out our favorite local areas to go for wildlife photography."
Broussard's favorites include the photos of birds he took including an eagle, White-faced Ibis, and mourning doves.
Thirty percent of the photographs in the book were taken in Cross Creek Ranch. The rest are from nearby spots throughout Southeast Texas.
"Cross Creek Ranch planners kept nature habitats in mind when they planned the development," Broussard said. "The many lakes, Polishing Pond, trails along Flewellen Creek and layout of the neighborhoods allow wildlife to co-exist with Cross Creek Ranch residents."
Both Turpin and Broussard hope the book helps give people an appreciation for nature.
"What I hope is that the people enjoy the pictures and diversity of wildlife here in CCR and the surrounding areas," Broussard said. "Secondly, that families can enjoy them together and the children are able to put a name to the wildlife they encounter in our area."
You can pick up a copy of "Fulshear and Beyond - Wildlife of Southeast Texas" at the Cross Creek West Art Market & Home Tour, 11 a.m. to 2 p.m. Saturday, April 29 at 4803 Garden Crest Lane in Fulshear. The book can also be purchased online.
---