March 06, 2023
Cross Creek West Campaign Benefits Local Charities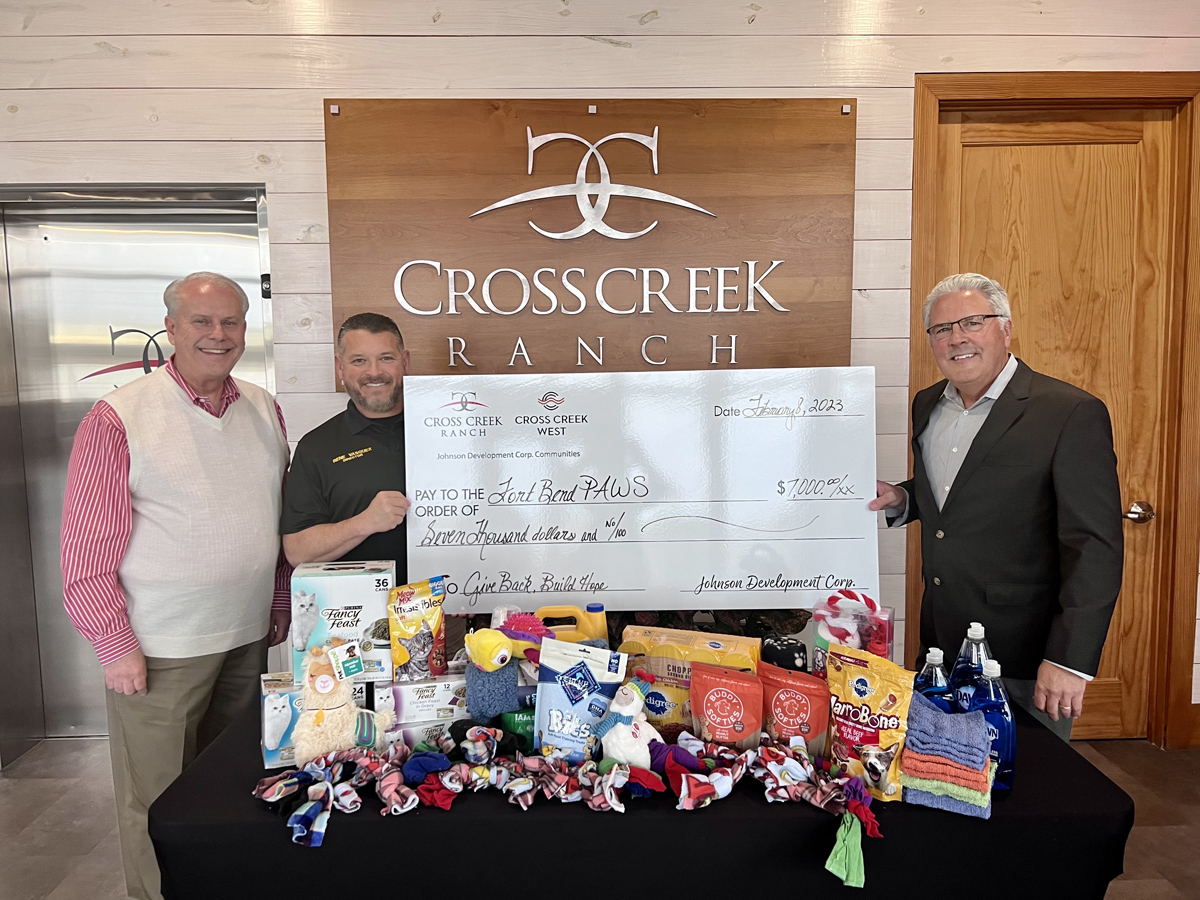 Cross Creek West gave back and built hope for five local charities, partnering with sister community Cross Creek Ranch to raise $35,000.
The campaign gave a donation to Fort Bend charities Abigail's Place, Brookwood Community, Family Hope, Fort Bend PAWS and Reining Strength for every home sold in the two communities during December.
"With the opening of Cross Creek West last year, we were able to expand on the success we've seen with the campaign in Cross Creek Ranch over the past two years and increase our support of impactful Fort Bend charities," said Rob Bamford, Senior Vice President and General Manager for Cross Creek Ranch and Cross Creek West. "Including these current donations, we've given more than $75,000 to local charities through this campaign over the past three years."
The campaign's far-reaching impact led to it winning the 2022 Houston's Best PRISM Award for Charitable Project of the Year given by the Greater Houston Association of Builders.
Richmond-based Abigail's Place serves single mothers facing episodic homelessness, providing transitional housing and helping clients toward self-sufficiency. The charity's transitional housing includes on-site shelter units, rental assistance, short-term hotel stays and security deposits.
Brookwood Community provides an educational environment that creates meaningful work, builds a sense of belonging and awakens genuine purpose in the lives of adults with disabilities.
Family Hope specifically helps those in northern Fort Bend County with food and assistance with medical, rent and utility costs. Throughout the pandemic, Cross Creek Ranch has partnered with Family Hope to provide food for those in need.
Fort Bend PAWS (Pets Are Worth Saving) raises funds and awareness for Fort Bend County Animal Services to help them maintain a high save rate as well as provide specialty veterinary care, spay/neuter assistance, shelter animal enrichment and other projects.
Reining Strength Therapeutic Horsemanship serves adults and children ages 2 and older who have physical, cognitive, social or emotional needs by providing equine-assisted services.
In addition to monetary donations, the two communities collected requested items such as toys, cleaning supplies, diapers, pet food, office supplies and more for the charities.
"Our residents and the public were so generous, we had to make deliveries midway through the campaign," Bamford said.
Representatives from the charities say they appreciate both the monetary gift and the donated items.
"Reining Strength Therapeutic Horsemanship is so grateful for the donation and in-kind donations of supplies to help out at the barn," said Heather Hernandez with Reining Strength. "With 18 equine staff members and over 100 clients weekly with physical, cognitive, social and emotional needs, we do a lot of cleaning! Having the supplies brings some much-appreciated budget relief."
Fort Bend County Health & Human Services Director Rene Vasquez is also appreciative of the support.
"PAWS is a great organization that supports our shelter by offsetting a variety of expenses that we cannot budget for," he said, "things like medical, spay and neutering of the animals, heartworm treatment and prevention, and all sorts of amazing necessities that we utilize for the animals at our shelter. Without great partnerships like these we cannot run the shelter the way we do."
Also joining in the Give Back Build Hope efforts was Tiff's Treats, which donated 20 percent of all online and in-store purchases made Dec. 9-22 with a special code.
"We appreciated their support of the campaign and loved seeing how the campaign grew in 2022 to help more people in Fort Bend County," Bamford said.
---