January 12, 2023
Double the Amenities, Double the Fun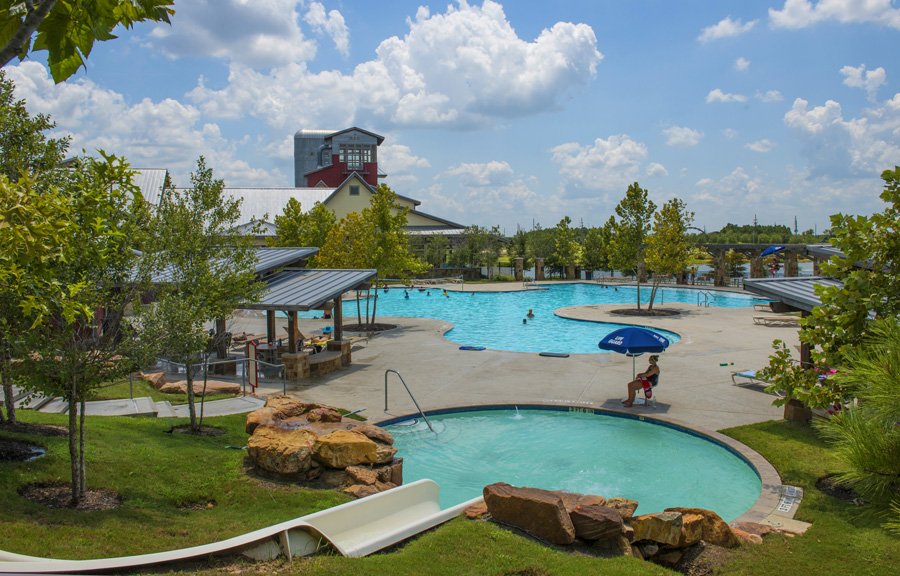 Cross Creek West may be a new master-planned community, but that doesn't mean you have to wait for amenities to be built. All residents have access to the extensive amenities at our nearby sister community of Cross Creek Ranch. Here's what you can do the day you move in:
Work on Your Core
Lift weights instead of moving boxes at the 6,500-square-foot fitness center. Rivaling any gym, the center features cardio equipment, free weights and spin cycles. Yoga, Boot Camp and Zumba classes, led by professional instructors, are available. The views are beautiful and there are no membership fees!
Dive Into Our Recreation Complexes
Cross Creek Ranch features not one, not two, but three amenity complexes. Each complex is anchored by a gorgeous pool, perfect for cooling down during the summer months. Adventure Island houses our 140-foot water slide, lakeside amphitheater, kayak dock and more. You can swim laps in the Flewellen Park pool. Greenthread Park offers an in-pool play area for the little ones. All complexes also feature picnic areas, sports courts and more.
Play Ball
Ready to play ball? Pine Park has it all. Play basketball, wall ball, pickle ball and tennis. A putting green allows you to work on your short game. Play lacrosse at the adjacent Fields at Pine Park. Arbor Park offers five tennis courts as well as sandy volleyball and basketball courts.
Play with the Pooches
Your canine can cavort at Canine Commons Dog Park. The spacious park features large and small dog areas, a watering station and benches for pet parents.
Watch the Birds
Birds and wildlife abound in Cross Creek Ranch. The 50-acre Polishing Pond is a habitat for permanent and migratory residents. Boardwalks allow you to watch, photograph and just enjoy them. Winding through Cross Creek Ranch is Flewellen Creek which serves as a home for birds, amphibians and other wildlife.
Take a Hike
Cross Creek Ranch is famous for its trails. Whether you choose to walk, jog or cycle, you are sure to meet up with friends, see gorgeous wildflowers and catch glimpses of the creatures that also call Cross Creek Ranch home.
Enjoy Music on the Patio
The patio at Italian Maid Café is the perfect place to enjoy lunch, brunch or dinner. In addition to beautiful views, the restaurant also hosts numerous concerts featuring local musicians. Come out for drinks and appetizers, a girls' night, celebrations or just a great family meal.
Picnic in the Park
We can't even count the number of picnic spots available in Cross Creek Ranch. All our amenity complexes have picnic tables, as do pocket parks and playgrounds. Find a spot along the trails, by the lakes or on The Hill.
Make Friends
It's easy to make friends at the many, many events planned by the Cross Creek Ranch Lifestyle Director. Plan to participate in Casino Night, the annual Nature & Wildlife Expo, fishing tournaments, art shows, pool parties, holiday events and more!
---