November 21, 2022
How to Save Money When Buying a Home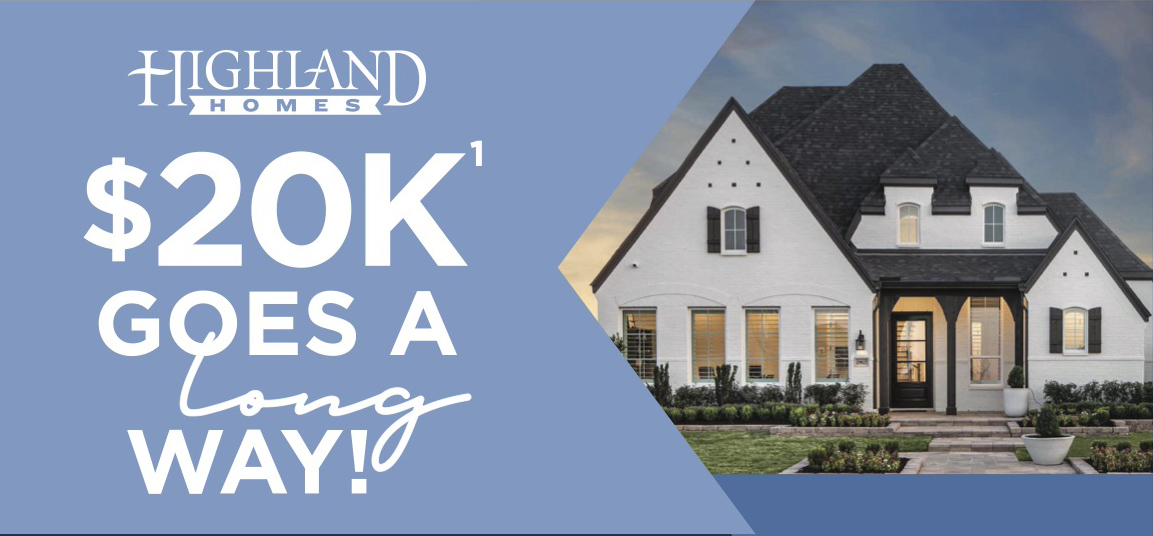 You read a lot in the news about rising mortgage rates. But how to save money when buying a home? Not so much.
We're here to change that.
Yes, mortgage rates have risen from their historic lows of just a couple of years ago. But there are several ways that you can lessen the impact of rising mortgage rates. Let's take a look:
Builder Incentives
Do you know what disappeared during the real estate market's frantic pace last year and earlier this year? Builder incentives. But they are back and can save you tens of thousands of dollars. Builders are offering discounts on the price of their homes as well as help with closing costs, interest rate locks and money toward structural options. Some are even offering a combination of incentives.
Highland Homes is giving you $20,000 that you could use toward the cost of a long-term rate lock, to buy a lower mortgage interest rate or as a credit toward closing costs when buying a new home in Cross Creek West through Dec. 31. Also during November/December, Lennar and Village Builders are offering price discounts up to $65,000, a lower fixed-rate mortgage and up to $10,000 toward closing costs on homes in Cross Creek West purchased between Nov. 1-30. Watch for new incentives popping up on our builder incentive page.
Shop Around for Mortgage Companies
If you're taking advantage of a builder incentive that deals with closing costs, you often use that builder's preferred lender. But it's always a good idea to shop mortgage companies. The news often reports about "average mortgage interest rates" — which means there could be rates lower than the current average. Make sure to ask not only about rates, but also loan terms, down payment requirements, mortgage insurance and fees. You may very well find that your builder's preferred lender is the one that's best for your particular needs, but it doesn't hurt to ask around.
Work on Your Credit Score
Your credit score and interest rate go hand-in-hand — the higher your score, the lower the interest rate. In fact, your interest rate can vary by approximately 1.5 percent from the lowest to top tier. On a $300,000 loan, that's a savings of about $322 a month or more than $3,800 a year.
You typically can't qualify for a home loan if your credit score is below 620. And every 20-point increase shows a decent decrease in your interest rate. Once you hit a credit score of 760, you're usually golden, netting the lowest available rate per credit score.
Make sure to check your credit score before you get serious about buying a home. You usually can do so online or request a report from a credit bureau. Make sure to see what might be impacting your score so you know what to work on. It could be that you've had too many queries into your credit. Not making timely payments can affect your credit score as can having too much credit card debt. Your credit report could also have errors that need to be removed.
Talk to Your Sales Counselor
If your preferred builder isn't currently offering an incentive or may not have an incentive that meets your needs, talk to the builder sales representative. Cross Creek West partners with reputable builders with years of experience navigating the road to homeownership — there may be something they can do to help get you into a new home. And if you're simply waiting out raising your credit score, make sure to stay in contact with your builder so you'll be the first to know of new incentives, available homes and available homesites.
---